The Kansas City, Kansas Municipal Court has news to share with you. Several items are time sensitive. Please review as soon as possible.
The Court is in the process of filling 3-4 Judge Pro Tempore positions. Due to some recent changes and opportunities the Court must fill these spots very quickly. The deadline for applications is Thursday March 9th at 5pm. (Download the two "Request for interest" documents here.)


The Court will begin the process of drafting Local, or Home Rules in April 2017. We would like to have input from practicing attorneys who routinely work in the Court. We are asking for 3-5 attorneys to serve for a period of 12 months on a Local Rules Review Committee. This Committee will review draft rule documents and provide feedback. This might include one or two group discussions, as well as, electronic document review. If you are interested please email the Court Administrator a statement of interest by Friday March 24, 2017.


The Court is requesting input from defense counsel regarding the general operations of the Court. We would be grateful if you would take a few minutes to complete our survey. Click the attached link to participate. The results are provided back to the Court in aggregate form and not identified by the individual respondent. We will use the results to guide future enhancements. https://www.surveymonkey.com/r/YD826ZY
The UG Legal Department is pleased to announce that beginning Tuesday March 7, 2017 traffic cases eligible for diversion can been addressed through the Prosecutor's Office during defined business hours.



Defendants may request traffic diversion in the Court on their scheduled court date OR on Tuesdays at the Municipal Prosecutor's Office from 8:00AM – 4:00PM
If by counsel, the Court may require an entry of appearance at the time of diversion.
Defendants shall receive no more than 3 traffic diversions per year.



The following violations are NOT eligible for diversion;



Violations that occur in a construction zone,
Violations that occur in a school zone,
Violations that are more than 30 miles per hour above the posted speed limit,
Violations of having no proof of insurance.



The following violations are ONLY eligible for diversion at court:



Violations that occur during an accident with the appropriate insurance letter; and
Driving while suspended violations


Eligible Traffic Diversions granted outside of court shall be paid in full the same day to the Clerk of the Court.
Traffic Diversions outside of court are not allowed if the defendant's case(s) are currently bench warranted.
The cost for a traffic diversion is double the fine, plus court costs.
KANSAS CITY, Kansas (June 8, 2016): Chief Judge J. Thomas Marten has announced his intention to take senior status and to step down as Chief Judge of the District of Kansas, effective April 30, 2017.
President Clinton named Judge Marten to fill a vacancy created by the departure of Judge Patrick Kelly in Wichita in October 1995; the Senate confirmed the appointment in January 1996. He became the district's Chief Judge in April 2014.
His successor will be appointed by the President of the United States, subject to confirmation by the United States Senate. As the judges have no role in the appointment process, any person interested in applying for the judicial position should direct his or her inquiry to the White House, our senators and congresspersons or leaders of the political parties.
TOPEKA—State courts are one step closer in their transition to a centralized electronic court environment with the Supreme Court's launch of its Kansas eCourt project today.
The eCourt project will focus on merging electronic document filing already used in most Kansas courts with a centralized case management system, uniting all court case information and business processes on a single platform.
"Courts have used technology to improve day-to-day business operations, but it has been at a district or county level, essentially creating standalone digital environments," said Chief Justice Lawton R. Nuss. "This initiative to centralize most of our court records and processes will allow us to share information across district and county lines, where we can make the most effective use of our limited staff and fiscal resources. It also strengthens the unification of our state's courts the people of Kansas asked for in their constitution more than 40 years ago."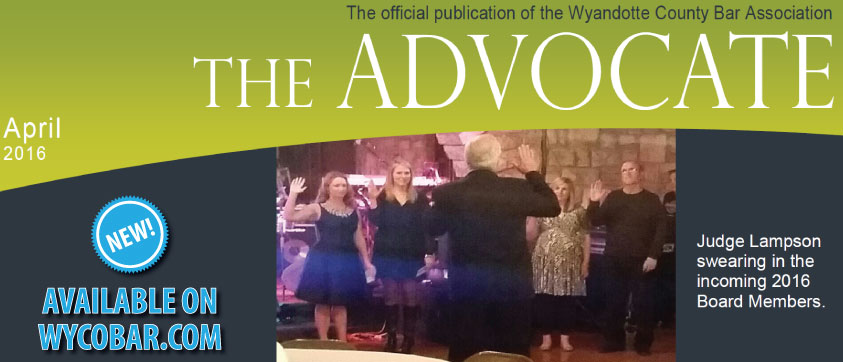 Click to read the latest issue of the official WyCoBar newsletter. (Adobe Acrobat in new window.
)
TOPEKA—The Kansas Supreme Court announced today that it has a project underway to expand attorneys' use of electronic filing in the Supreme Court and the Court of Appeals with the intent that it will become mandatory effective November 2, 2015.
"This is an important step toward more modern courts that allow attorneys to electronically file their documents from anywhere, saving them both time and money," said Lawton R. Nuss, chief justice of the Kansas Supreme Court. "In our experience, many attorneys who bring cases to the appellate courts are open to using electronic filing, especially when they discover how easy it is."
Please click here to download the entire announcement....
If you have any questions about this announcement, please contact Lisa Taylor, Public Information Director - 785-296-4872 or This email address is being protected from spambots. You need JavaScript enabled to view it.